Senegalese security forces dismantle militant cell linked to Katiba Macina in Senegal's Kidira, bordering Mali – Sahel Situation Update
Executive Summary
The reported dismantling of a militant cell within Senegal and a UN report on the presence of jihadists in the country embodies the risk of militancy spilling over into the coastal countries from the ongoing insurgency in Burkina Faso and Mali.
While these reports are plausible due to an increasing entrenchment of militants in Mali's Kayes Region, which borders Senegal, it is likely that the jihadist encroachment into Senegal, if present, is nascent.
However, in the absence of decisive counter-militancy operations and as militants solidify their hold over Mali's Kayes Region, the jihadist presence in Senegal is likely to grow, though it may be a slow-moving process. This is likely to manifest as an exploitation of grievances to create tensions and facilitate recruitment as well as attempts to entrench themselves.
The Senegalese government is likely to scale up the military presence along its border with Mali and may also attempt to establish lines of communication with Mali and Mauritania to facilitate a regional coordinated response.
Please be advised
Across the region, the following notable incidents have been reported:
Mali
| | | | | | |
| --- | --- | --- | --- | --- | --- |
| Map # | Region | Cercle | Locale | Date | Description |
| 1 | Timbuktu | Timbuktu | Ber | February 6 | At least 10 wounded including women, children as vehicle hits IED |
| 2 | Timbuktu | Gourma-Rharos | Tinwoussouk | February 8 | 15 militants killed, 22 motorbikes destroyed by Barkhane strike |
| 3 | Sikasso | Kolondieba | Kolondieba | February 8 | Several police officers injured as armed men arrived on motorcycles, opened fire, attacked the police station while shouting "Allahu Akbar" |
Burkina Faso
| | | | | | |
| --- | --- | --- | --- | --- | --- |
| Map # | Region | Province | Locale | Date | Description |
| 4 | Sahel | Seno | Dori | February 1-7 | Security Forces carry out operations with air support to secure markets, places of worship |
Senegal
| | | | | | |
| --- | --- | --- | --- | --- | --- |
| Map # | Region | Department | Locale | Date | Description |
| 5 | Tambacounda | Bakel | Kidira | January 20-22 | Three alleged members of "sleeper militant cell" linked to Katiba Macina arrested, authorities seized several cell phones |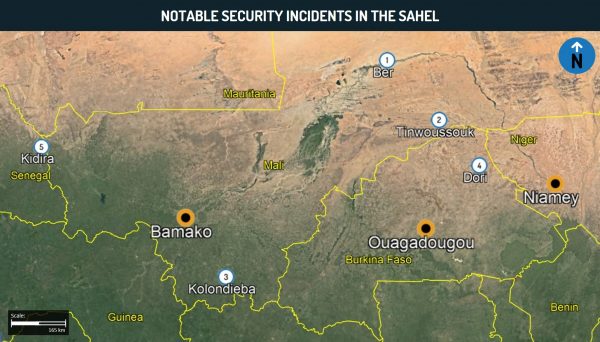 Notable Developments
Reports indicate that Ivory Coast's government spokesperson stated that the authorities are maintaining permanent vigilance in response to the French revealing on February 1 that Jamaat Nusrat al-Islam waal Muslimeen (JNIM) and al-Qaeda in the Islamic Maghreb (AQIM) leadership held a meeting in February 2020 to discuss expansion into Gulf of Guinea countries.
Reports indicate that Burkinabe PM Christophe Dabire stated that the government was not against negotiating with jihadists in response to a question in Parliament on February 4.
The 27th report of the Analytical Support and Sanctions Monitoring Team concerning Islamic State and al-Qaeda to the UN Security Council (UNSC), published on February 3, mentions the encroachment of JNIM elements, backed by "radical Islamic influencers," into Senegal. The report specifically mentions Bakel in the Tambacounda Region, Ferlo Reserve in the Matam Region, and the gold-extraction areas of Saraya in the Kedougou Region.
Assessments & Forecast
Sahelian militant groups' intent to extend their operational theater across borders into the coastal states is well-documented, with the French releasing information about a meeting between JNIM and AQIM leadership to purportedly discuss expansion into the Gulf of Guinea countries. Militant chatter, their past attacks, and areas of entrenchment in Burkina Faso suggested that the risk of militant spillover was particularly elevated for Benin and Ivory Coast, resulting in much of the discourse around this issue is focused on these two countries. However, while there is a very present and heightened risk of militant activity in northern Benin and Ivory Coast, they are by no means the only countries at risk. The proliferation of militancy within the Sahelian countries over the past year has raised the threat of jihadism encroaching into other bordering countries as well, as embodied by reports of jihadists being present in Senegal.
The marked increase in militant activity in Mali's Kayes Region, which borders Senegal, in the past year with JNIM claiming attacks in January and February 2020 not only highlighted the breadth and scope of JNIM's operations within Mali but also elevated the threat of militants crossing over into Senegal. To that point, JNIM affiliate Katiba Macina leader Amadou Kouffa's call to the Fulani in West Africa, including Senegal, to embrace jihad and the establishment of Katiba Macina cells a few hundred kilometers from the Senegalese border in the Kayes Region as per reports on November 2020 do somewhat support the UN's assertion of jihadist presence in Senegal. That said, there have been no reports of overt militant activity in the country over the past year, which suggests that any jihadist encroachment into the country is in its initial stages and makes it unlikely that there is significant jihadist presence in the locations mentioned in the UN report, which span Senegal's eastern border. While it is not entirely implausible that militants have been covertly infiltrating and setting up cells across eastern Senegal, it is more far more likely that the jihadists may have dispatched recruiters and radical preachers to assess the potential for radicalization among the populace, particularly the Fulani, and judge the size of the recruit pool in the locations mentioned in the UN report.
The report on the dismantling of the militant cell in Kidire, on the other hand, is far more plausible given its location on the border with Mali's Kayes Region. It is prudent to note that the alleged militants were arrested on the basis of material on their cell phone that revealed that they belonged to groups on social media platforms advocating armed jihad and none of the reports note any weapons on their persons or at their homes, though it remains possible that this information has not been disclosed yet. Neither do the reports indicate any sign to suggest that this alleged "sleeper" cell was planning an attack imminently or even possesses the capabilities to launch an attack. This seems to suggest that if indeed it was a Katiba Macina cell, it was composed of newly radicalized members.
While there is a very present risk of militant encroachment into Senegal and this risk is only going to heighten as the militants solidify their hold over Mali's Kayes Region, based on the reports at this time, it seems like that their presence in Senegal is nascent. FORECAST: However, unless decisive counter-militancy actions are taken, the jihadist movement in Senegal is liable to grow over the coming year. Based on precedent, this encroachment is likely to manifest as the exploitation of socio-political and ethnic grievances to facilitate recruitment and create localized militant cells as well as attempts to enforce Sharia law and eliminate religious and state leadership at the local level to enable jihadist entrenchment. Eventually, once they gain a foothold, the jihadists are liable to expand their modus operandi to include small-scale attacks against security forces and other state symbols. This may be a slow-moving process that takes years, as is the case in Ivory Coast where there have been gradual signs of militant entrenchment with the militants conducting an attack in Savannes Region in June 2020 after years of militant presence across the border in Burkina Faso's Cascades Region.
Senegal started construction of a military camp in Goudiry, Tambacounda Region, as per reports in July 2020 and reportedly conducted capacity building operations to streamline cooperation among the Defense and Security Forces, gendarmes, police officers, and other officials in the area in November 2020. FORECAST: Following the publication of these reports, the government may reinforce security at the border. In addition, it is possible that the country will attempt to establish lines of cooperation and communication with Mali and Mauritania and try to work together to contain any spillover of jihadist elements over its borders. Finally, apart from martial measures, authorities in Senegal may follow Mauritania's example and adopt some soft counter-militancy approaches, given the failure in Mali and Burkina Faso to combat the insurgency with military means alone.
Recommendations
We advise against all travel to the border region between Mali, Niger, and Burkina Faso, given the extreme risks of militancy, ethnic conflict, and violent crime.
Avoid all travel to northern and central Mali, including Timbuktu, Kidal, Gao, Mopti, and northern Segou region, given the threat from militant and rebel groups operating in the area, as well as ongoing ethnic tensions and intercommunal violence.
Avoid all travel to northern and eastern Burkina Faso, particularly Sahel, Est, Centre-Est, Nord, Centre-Nord, and Boucle du Mouhoun regions due to the ongoing threat of militancy and violent crime. Avoid nonessential travel to outlying areas of the southern and western regions due to the increased risk of attacks.
We advise against all travel to Niger's Tillaberi and Tahoua Regions in the west along the borders of Mali and Burkina Faso, with the exception of Niamey, due to the ongoing risk of militancy.