Executive Summary:
The El Bajio region in the west and north-central Mexico houses the major industrial centers for automotive parts in the country, which have primarily driven manufacturing growth over the past decade, as well as increasing agribusiness.
Organized criminal groups have shifted sights to diversify into and target various agricultural and manufacturing industries in recent years, especially during the pandemic.
This trend is expected to worsen the operating environment due to the extreme risk of violence and disruptions to business activity in the absence of an adequate security response.
Essential business travel to Mexico's industrial center can continue while remaining cognizant of international travel advisories and the persistent risk of violence stemming from organized criminal activity.
This is the first in a series of analyses explaining and forecasting the cartel-related risks posed to business and travel in Mexico, with future reports focusing on border cities, ports, and popular tourist destinations.
---

---
Current Situation
The Bajio region of west and north-central Mexico, which includes parts of Aguascalientes, Guanajuato, Jalisco, Michoacan, Queretaro, San Luis Potosi, and Zacatecas, has been the major driver of industrial growth in the country over the past decade.
Areas in the Bajio region have also emerged as hotspots for organized criminal activity, serving as the headquarters for major groups prior to the industrialization wave. The Michoacan-based La Familia Michoacana (LFM), Guanajuato-based SRLC, and Jalisco-headquartered CJNG are the primary cartels engaged in various turf wars directly as well as through proxies and allies.
The fast-growing Cartel Jalisco Nueva Generacion (CJNG) has now established a presence in all states of the Bajio region. Turf wars with the Santa Rosa de Lima Cartel (SRLC) continue, although security operations targeting this group have weakened it significantly.
These groups have sought to target industry and critical infrastructure in recent years as a means to diversify from solely focusing on drug trafficking revenue, which declined somewhat due to increased cross-border operations. For instance, the SRLC is known to rely mainly on oil theft for the black market and extortion against state-owned oil company PEMEX's assets.
In June 2020, authorities rounded up 26 suspected members of the SRLC in the state capital of Celaya in Guanajuato, including leader 'El Marro's' mother, sister, and girlfriend. This prompted a wave of intense retaliation throughout the year, including public shootouts, attacks on law enforcement, and sieges of stronghold areas. Despite the eventual arrest of El Marro in August 2020, the SRLC has continued its wave of violence, mainly stemming from an intense turf war with the CJNG, which has struggled to take control of Guanajuato.
In February 2020, the CJNG announced their arrival in San Luis Potosi state with a social media video featuring heavily armed masked men warning other groups to stay away, as well as alleging that Police Chief Jose Guadalupe Castillo Celestino was in charge of the sale of drugs in the state capital.
In November 2019, federal authorities froze 533 bank accounts linked to the CJNG in the Bajio region. 53 accounts linked to the still-at-large leader of the CJNG, 'El Mencho', were also frozen.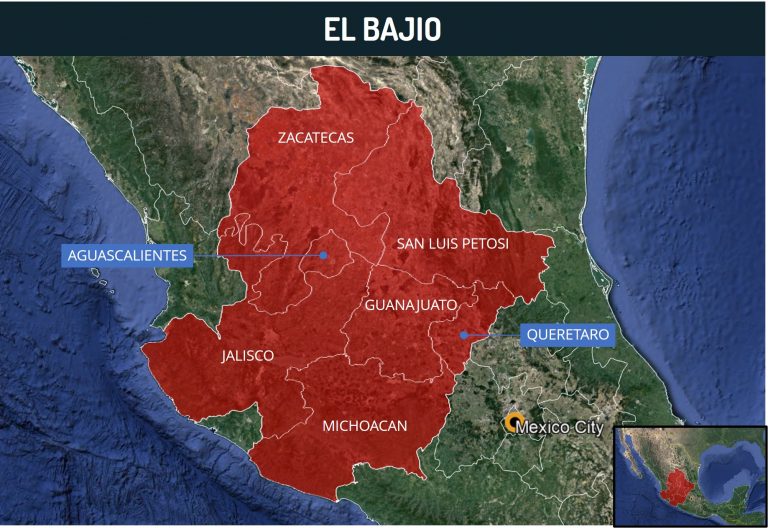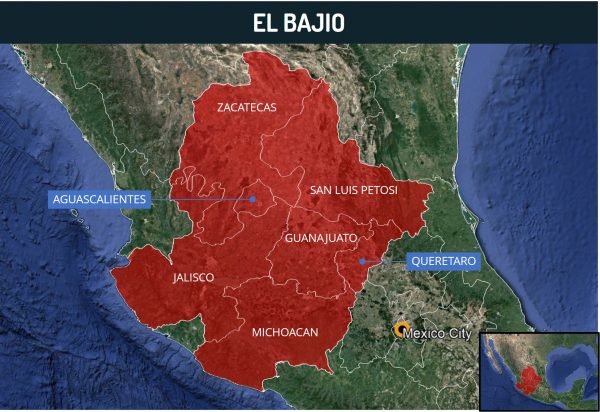 Background
Aguascalientes, Guanajuato, Queretaro, and San Luis Potosi agreed to form a new manufacturing region called the Central Bajio Corridor in November 2018, with shared infrastructure, investment, and employment policies. Long-term cooperation between the states will also extend to security, tourism, transport and social development, among other areas.
Overall, the El Bajio region recorded a 47.2 percent increase in production between 2013-2018. Investment in the area remains robust in activities such as logistics, e-commerce, financial services, and manufacturing, specifically in the automotive industry.
Reports from 2020 indicate that the pandemic did not significantly affect rental prices in the region, indicating that investors continue to hold high levels of confidence in the growth potential of the area.
Apart from industry, the Bajio region is also very fertile, with several export-oriented farms centered in the region, particularly in the multimillion-dollar avocado belt of Michoacan, which cartels refer to as 'green gold'. Instances of cartels attempting to take over farms, extort farmers, and target indigenous land reserves in the area have been increasing over the past few years.


Assessments & Forecast
Rapid expansion of industry, foreign firms to continue attracting cartels
The increasing availability of a well-educated workforce from nearby Mexico City and the State of Mexico, as well as the ease of doing business in El Bajio due to policies designed to attract foreign investment, will ensure that the region remains a popular destination for foreign firms to headquarter Mexico-based industrial operations and house ex-pat workers.
Given the systemic issue of public corruption in local police forces, businesses are also unlikely to be able to rely solely on state and national officials to secure their assets. Despite the pandemic and its purported effects on disrupting criminal activity, states like Guanajuato did not record a significant decline in homicides in 2020, indicating the continued threat posed by organized crime groups.
In addition, as seen in Guerrero in 2018, when major American beverage companies were forced out of production facilities due to extortion threats from drug trafficking groups, the possibility of recognizable international brands being specifically targeted remains high. These are usually targeted for extortion, protection fees, kidnappings, and intimidatory shootouts.
With this, pandemic-related slowdowns and a change in working patterns in the near term may lead to fertile ground for organized criminal groups to capitalize on reduced staffing at manufacturing and storage facilities for break-ins and thefts of materials and goods. Such a trend has emerged in other areas of Latin America during the pandemic, as disruptions to supply chains and drop in demand mean such goods are often in storage or holding locations for longer.
As seen in various Mexican cities during the pandemic, well-organized cartels have also emerged as a viable, faster, and more efficient alternative to local government when it comes to distribution of scarce resources such as food and medicines. With the faith in all levels of government and big business further undermined by this two-pronged carrot-and-stick approach pursued by organized criminal groups, poorer locals are likely to be easier to recruit or bribe to aid in their operations.
FORECAST: With the recent legalization of marijuana in Mexico on March 10 potentially seen as a precursor to further reductions of drug trafficking revenues, coupled with the pandemic-related border restrictions, the CJNG and other major groups will likely focus on diversifying revenue and capitalize on this industrial growth. Given El Bajio's location between a number cartels' strongholds and its increasing development, a continuing uptick in illicit activities, including kidnappings of both local and foreign workers, extortion, and attacks on buildings and installations is likely to be witnessed over the coming months and years.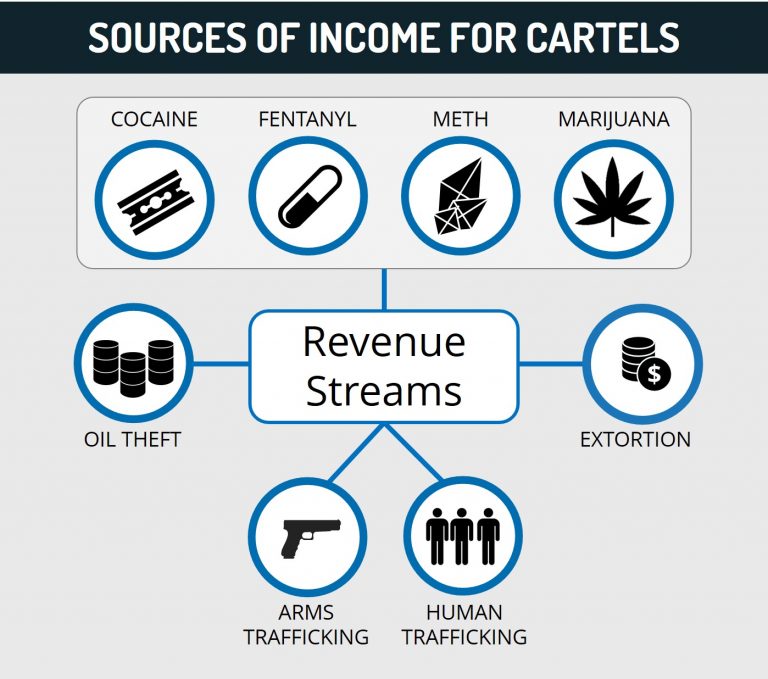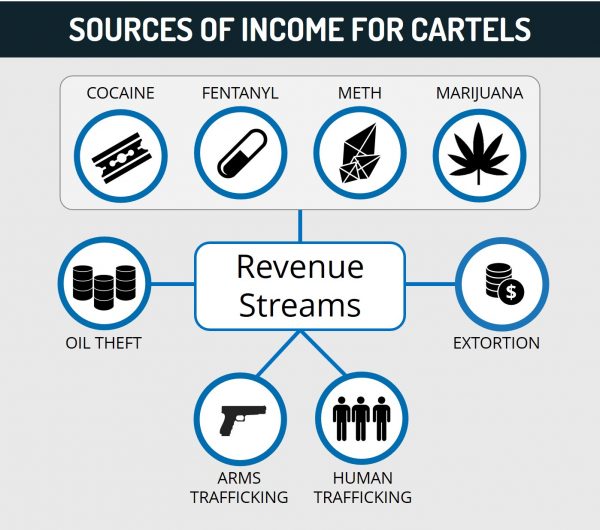 Cartels to target agricultural industry, local communities with high chance of violent retaliation
Local farming communities in Michoacan and other states have persistently been targeted by various organized crime groups seeking illicit gain from export revenues, and set up their own semi-legal agricultural businesses such as avocado farms and timber, to diversify revenue streams. Colombian authorities have also alleged that Mexican cartels are attempting to produce synthetic cocaine using cheaper coca base paste within Mexico itself, which would simplify their trafficking supply chains and reduce associated costs of importing from Colombia. As such, the Bajio region will continue to be lucrative to such criminal groups not only as a source of extortion but as a base for emerging agri- and narcotic-based production due to its high fertility and vast expanses of land.
An additional threat is posed by the cartels' continued targeting of indigenous communities in these states, by burning protected lands and illegally cutting through forests. Given their distrust of authorities over historic grievances and the inability of the state to provide them protection, such communities often form self-defense groups or grupos autodefensas. Owing to their limited resources and inter-group conflicts, as well as reports of self-defense groups being involved in drug trafficking, kidnapping, and infiltration by criminal organizations, their presence is likely to pose additional risks to local businesses and residents. This could be directly through targeted criminal activity or indirectly through violent public confrontations with law enforcement and cartels.
FORECAST: The agro-business environment in Bajio will become increasingly uncertain as the economic fallout of the COVID-19 pandemic becomes more apparent in the coming months, with unemployed local communities likely to blame big businesses for job losses and rising violence in the states. Given that adequately protecting farmland and forest areas has proven to be a major concern for both private and public security apparatuses, secondary industries are likely to be adversely affected by the resultant deterioration of the business environment. Cartels are thus likely to capitalize on the economic downturn by taking over disenfranchised land owners' assets and disrupting localized agri-business activity, as well as emerging as an alternative source of aid and services from officials for disadvantaged locals.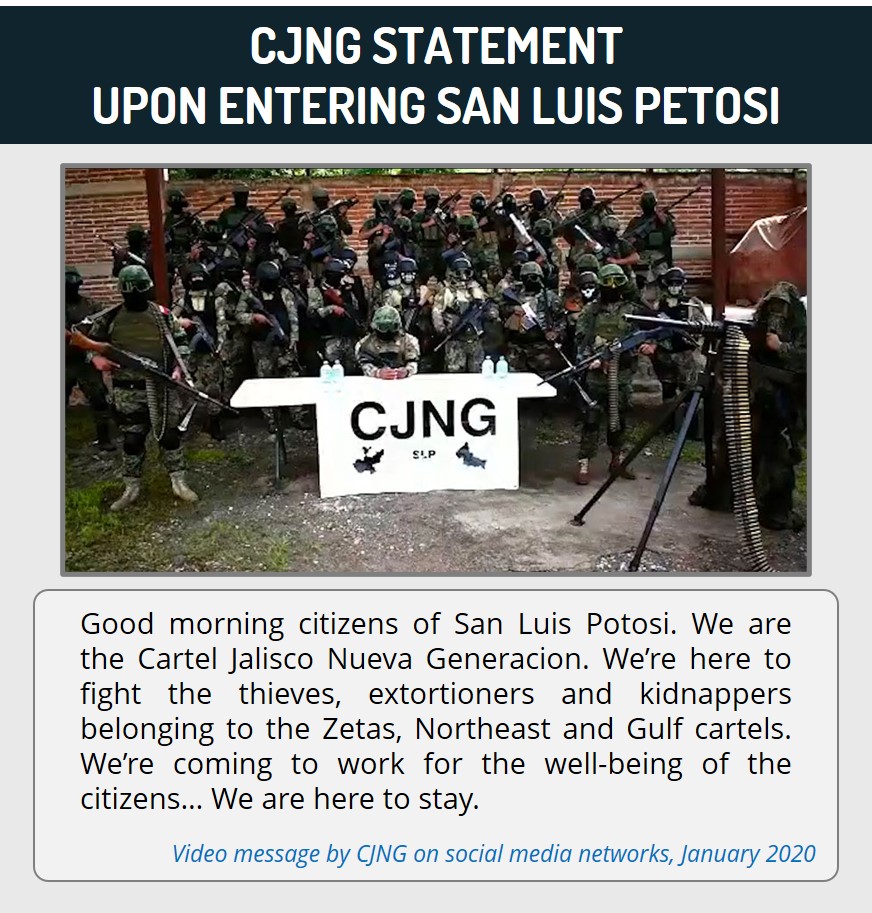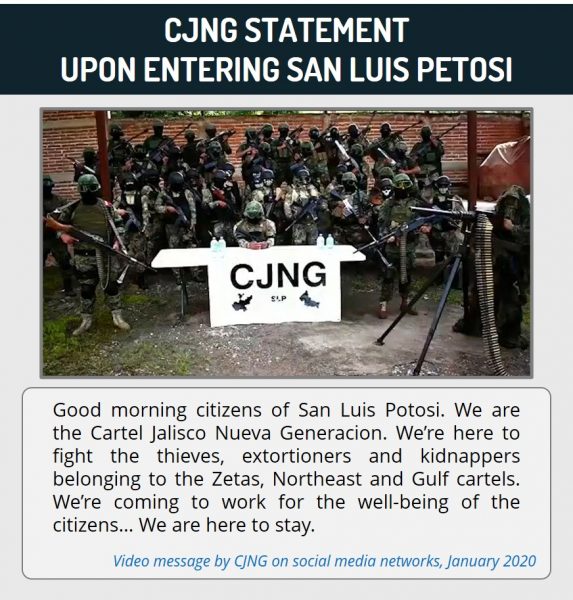 Increasingly violent turf wars, standoffs with law enforcement to increase risk to bystanders
Groups such as the SRLC and the CJNG have faced increasing scrutiny and security operations in the El Bajio region in recent years, likely due to authorities' attempts to ensure the region remains an attractive investment opportunity. However, this has led to brutal turf wars and retaliatory violence in states like Guanajuato, Jalisco, Michoacan, and San Luis Potosi. This is reflected in these states consistently recording some of the highest homicide and assault rates, and multiple advisories by the US Department of State advising against travel to some areas in these states.
In addition, the trend of smaller, often more radical, local groups allying themselves to large cartels to carry out violent proxy attacks on rival groups and law enforcement, as well as mass-casualty attacks in public areas, is expected to continue going forward. As such, there remains a high risk of spillover violence affecting travelers and residents in these states.
Further, given the general mid-term legislative, gubernatorial, and local elections scheduled for June 2021, as well as the electoral significance of major states in El Bajio, the threat of politically-motivated violence remains high. This is supported by attacks targeting mayoral candidates between March 3-5 in the municipalities of Nuevo Casas Grandes in Chihuahua, Casimiro Castillo in Jalisco, Isla Mujeres in Quintana Roo, Tamazunchale in San Luis Potosi, and La Perla in Veracruz. Groups such as the CJNG are known to engage in armed attacks on candidates and sitting officials to ensure that those in power are favorable to their operations, and targeted attacks sometimes carry the latent potential of spillover violence.
FORECAST: Given precedent, key states and cities in El Bajio are likely to witness a spike in violence in 2021 due to political developments, and into the longer-term due to an anticipated uptick in security operations against large criminal groups. Such insecurity is likely to adversely affect the image of the El Bajio industrial region as being safe for doing business.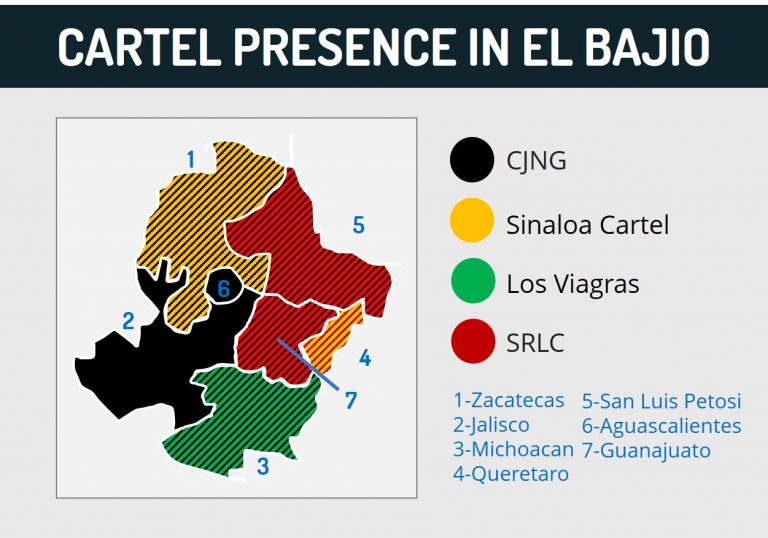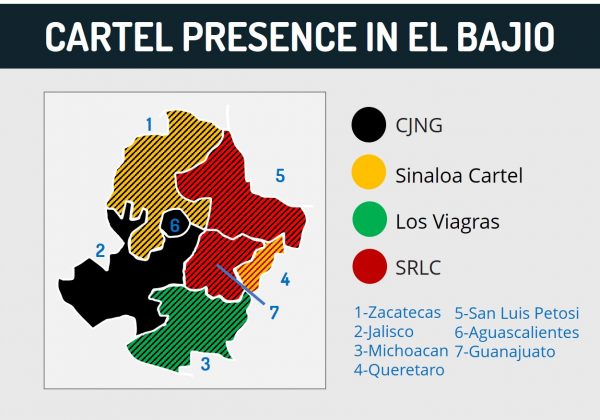 Recommendations
Those operating or residing in Mexico are advised to remain cognizant of the threat posed by organized criminal groups to business activity in the El Bajio region.
Avoid nonessential travel to areas with an extreme or high risk of cartel and gang-related violence, including avoiding rural road travel.
Those with continuing essential operations in such areas are advised to maintain an adequate private security contingent in order to secure any facilities or transport plans. Minimize employee exposure to areas with a known cartel presence.
In the event that a facility or operation is targeted by cartel members, it is advised to evacuate nonessential personnel immediately from the site, while avoiding any interaction with the criminal groups where possible and contacting local and home-nation authorities.
Remain cognizant of local media updates regarding areas with a significant cartel presence, given the dynamic nature of the violence.