Executive Summary
The center-right VVD led by Prime Minister Mark Rutte emerged as the largest party in the March 2021 Dutch national elections, followed by center-progressive-liberal D66, right-wing populist PVV, and centrist CDA.
Due to the significant fragmentation of both the right- and left-wing, even by Dutch standards, various coalition formations are possible.
Nonetheless, the results indicate that VVD and D66 will likely form the core of the next governing coalition, with one or multiple smaller parties.
D66's gains could lead to a slight policy shift to the left within a continuation of a center-right government or lead to the inclusion of left-wing parties in a coalition.
Travel to the Netherlands may continue while remaining cognizant of COVID-19 regulations and maintaining vigilance for related unrest.
---

---
Current Situation
In the March 2021 Dutch national elections, Prime Minister Mark Rutte's center-right Volkspartij voor Vrijheid en Democratie (VVD) retained its place as the largest party with 34 seats in the 150-seat House of Representatives, gaining one. The centrist-progressive-liberal Democraten 66 (D66) came in second with 24 seats; right-wing populist Partij voor de Vrijheid (PVV) came third with 17 seats and centrist Christen-Democratische Appel (CDA) was fourth with 15 seats.
With a five-seat increase, the socially-liberal and pro-EU D66 overtook its coalition ally CDA.
New parties entering parliament include right-wing populist Juiste Antwoord 2021 (JA21), social-liberal Volt Nederland (Volt), agrarian BoerBurgerBeweging (BBB), and anti-racist and anti-capitalist Bij1.
Specific issues, such as the climate crisis and post-COVID socioeconomic recovery, remained unheeded in the campaign, being dominated by the theme of "trusted leadership" concerning the handling of COVID-19 instead.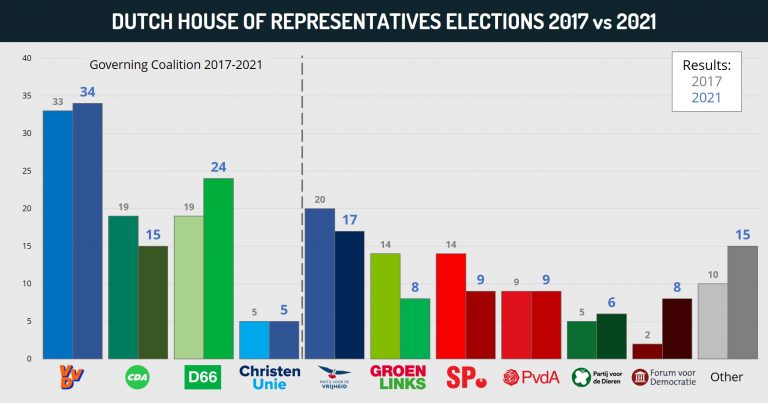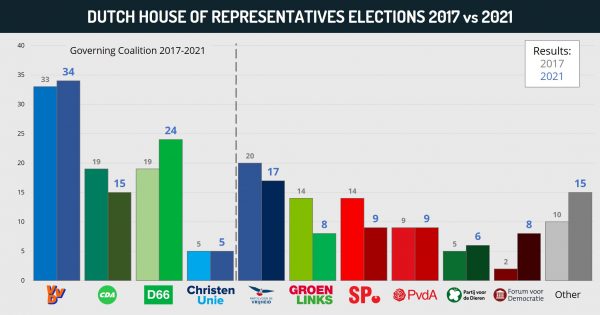 Background
Under the Dutch system, parliament is elected by proportional representation. Fourteen parties sat in the former parliament. A record 37 contested in the 2021 election, with 17 gaining seats.
On January 15, 2021, Prime Minister Rutte's government resigned amid a subsidies scandal. The resignation followed a failed attempt by Rutte to win the backing of coalition allies, signaling the start of political hostilities before the election.
Rutte remains as caretaker PM until a new government is formed post-election.
Between January 23-25, police reportedly detained over 500 demonstrators nationwide as mass anti-COVID-19-related protests against a nightly curfew turned violent. Rioters conducted widespread vandalism. Journalists and camera crews were also targeted. Over a dozen officers were injured while utilizing forceful dispersal measures. Rutte denounced the events as "criminal violence."
Over 16,000 people are confirmed to have died of COVID-19 in the Netherlands, with over 1.2 million cases. Less than four percent of the population have received both doses of a COVID-19 vaccine as of writing.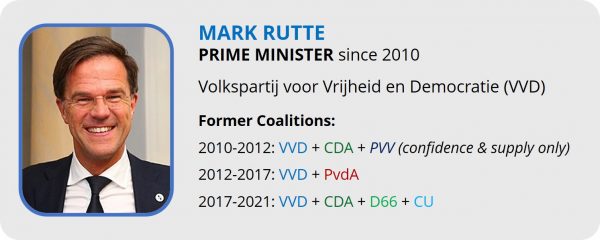 Assessments & Forecast
COVID-19 pandemic was the main influence on the election results, despite recent benefits scandal
Despite the recent benefits scandal, the handling of the COVID-19 pandemic was the largest influencer of the election results, with the limiting of the electoral campaign to social media, advertising, and televised debates due to the COVID-19 pandemic restrictions likely also being a factor.
The increase of the number of parties to 17 highlights further fragmentation and the reduction of mainstream parties' dominance. That said, VVD's success despite the subsidies scandal is likely owing to Rutte's "herd immunity policy," appearing as the leading "statesman" to deal with the crisis, emphasizing another required term to get the country through the pandemic. Additionally, VVD's one-seat gain is likely mainly due to first-time voters and a shift in votes away from CDA and the 50PLUS (50+) party.
D66 emerged as the primary beneficiary of the elections. Its gains are likely attributable to posing itself as the left-leaning party with the most chance of being able to have a significant impact on a potential government coalition. Additionally, its progressive stances offered an alternative to Dutch far-right populism for those looking for another option to Rutte. Further, it likely won GroenLinks (GL) votes by holding similar positions on issues such as climate and immigration policies.
This position as an "acceptable alternative" option to Rutte for centrists is likely to have also played a part in diminishing the CDA's votes, with Rutte and the more right-wing parties also eating into the party's votes from both wings.
That Partij van de Arbeid (PvdA) finished unchanged and left-leaning parties Socialistische Partij (SP) and GL, lost almost half their seats, indicates a further decline of the Dutch center-left and progressive wing, jointly amassing only 33 seats. Meanwhile, the SP's regression is likely influenced by its right-wing basis campaigning and its recorded membership slump.
On the other side of the political spectrum, the election generated a radical reorganization of the populist right-wing, which achieved its best-combined result with an overall total of 28 seats but became more fragmented in the process, with PVV losing seats to JA21 and Forum voor Democratie (FVD). This is liable to be partially due to the alleged ineffectiveness of PVV leader Geert Wilders from various sections of the right-wing, with others claiming he has tried to pursue non-far-right positions to gain votes. The right-wing likely gained ground by capitalizing on riots and protests organized against COVID-19 measures, seizing on the growing anger towards the regulations and resulting economic hardships.
Although coalition building will be challenged by a shift in power of current partners, a VVD-led four-party government remains the most likely outcome
The Dutch coalition-making process typically takes months, although, in 2017, it took a record 225 days. Despite Rutte's calls for swift negotiations amid the COVID-19 crisis and weakened economy, D66 leader Sigrid Kaag reiterated her desire to include more left-wing parties to form a more progressive coalition that could prolong the process.
Nonetheless, the most likely coalition includes a continuation of the former four-party coalition between the VVD, CDA, D66, and the ChristenUnie (CU), and primarily agreeing on principal policy issues. However, a significant bone of contention could be around social issues, such as abortion and euthanasia, given the differences between D66 and the CU. Further, the existing disparity on immigration, asylum, climate, and extensive agricultural and nitrogen policies may prove obstacles to reforming this grouping.
Judging by these contentions, VVD, CDA, and D66 may seek an alternative partner to CU, likely to include one of the parties on the left, namely PvdA, SP, GL, Partij voor de Dieren (PvdD), Volt, Staatkundig Gereformeerde Partij (SGP), or DENK. Rutte's proven willingness to be flexible makes such a coalition possible, as long as the smaller partner's demands for joining are not deemed to be too radically to the left. Additionally, D66 has stated that it is reluctant to work with either GL or PvdA, due to irreconcilable differences, further limiting the options for partners on the left.
As such, given that no parties have ruled out cooperating with right-wing populist JA21, and the party holds eight seats in the Senate, providing a government majority in both chambers, Rutte could consider inviting them to discussions. However, this would likely be met with resistance from D66 due to disagreements on climate change, EU integration, and immigration policies.
While Volt would likely be D66's preferred choice for a fourth coalition partner amid its pro-EU stance, Rutte is unlikely to support this due to VVD's reluctance to further European integration, support of a stricter asylum policy, and investment in defense instead of healthcare.
Despite his apparent support, multiple extensive parliamentary inquiries are likely to weigh on Rutte in the coming years and potentially cause political instability amid accountability debates. These include the child benefit scandal, damage to houses amid earthquakes from natural gas extraction, and the government's unpreparedness for the health crisis. As such, even if the VVD is able to reach a coalition agreement, the stability of any government is liable to be tested, with a possible Rutte departure likely to lead to a swift collapse.
If a four-party coalition of VVD, D66, CDA, and a smaller partner fails, then a center-left coalition with VDD's support becomes a possibility, a development the D66 as a center-progressive party likely prefers, potentially trying to secure the PM role as the largest party. However, the significant differences between the party and the various left-wing parties will make discussions difficult, if irreconcilable. Furthermore, that left-wing parties GL, PvdA, and SP went from a combined 37 seats to 26 would mean a left-wing coalition would require seven parties, which is highly unlikely to reach an agreement.
A coalition including the PVV and FVD is implausible, as most mainstream parties have ruled out working with these parties amid their relatively extreme right-wing and racist, xenophobic, and conspiratorial rhetoric and anti-Islam policies. This rules out a right-wing alliance between VVD, CDA, and PVV, which had a coalition agreement between 2010 and 2012.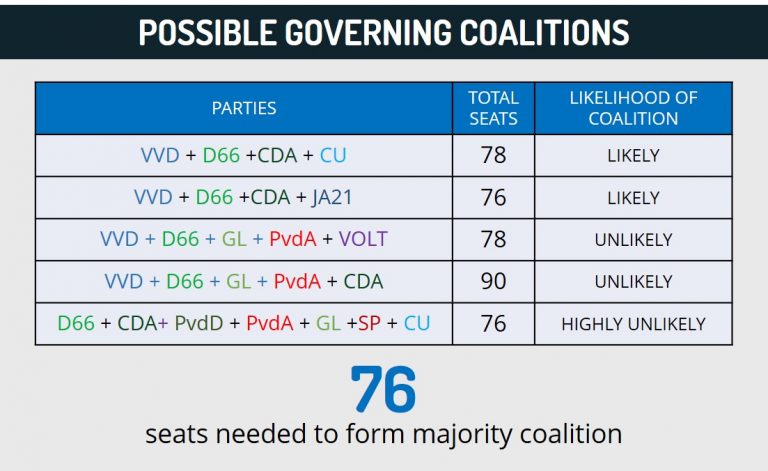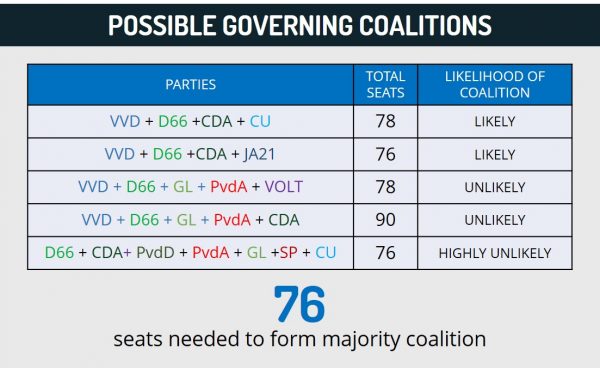 Despite a possible new fourth party in most likely coalition option, if Rutte remains PM, policy changes are likely to be limited
If Rutte remains Prime Minister, as is most likely at this point, the various four-party coalition outcomes would likely see policies remain largely in line with the previous government, with less focus on fiscal consolidation, given the severe COVID-19-generated impact on the economy. However, D66's gains could lead to a slight policy shift to the left, including an increased focus on combating climate change, equality of opportunity, and European cooperation. Nonetheless, fiscal responsibility would remain a key pillar of government policy. As none of these parties advocated a rapid reduction of the public deficit, unlike in the aftermath of the 2007-2008 global financial crisis, long-term debt sustainability rather than short-term consolidation is likely. Further, as both VVD and D66 agreed-upon pension policy change, the next government will likely introduce related legislation.
The Netherlands' place within the EU would likely be raised in such a coalition, with Rutte having led a number of countries opposing a more abundant COVID-19 financial recovery package, while D66 has called for greater cooperation within the bloc. Considering German Chancellor Angela Merkel stepping down in September, the UK's exit in January, and the mixed response to French President Emmanuel Macron's attempts to steer the EU, regional leaders are liable to look to Rutte as the 'senior statesman' within the bloc, having been in power for over 10 years. As such, should the D66 be able to sway Rutte towards a more cooperative view, the impact on the wider EU could be significant.
Although appearing to be unlikely at this stage, a center-left, non-VVD led coalition, would entail a shift to the center-left on some policies, including climate change and socioeconomic issues. While the competing parties were divided on various issues, sustainable development and climate policies were part of all platforms, albeit at varying levels. As such, any COVID-19 response plan would likely have some leaning towards these considerations.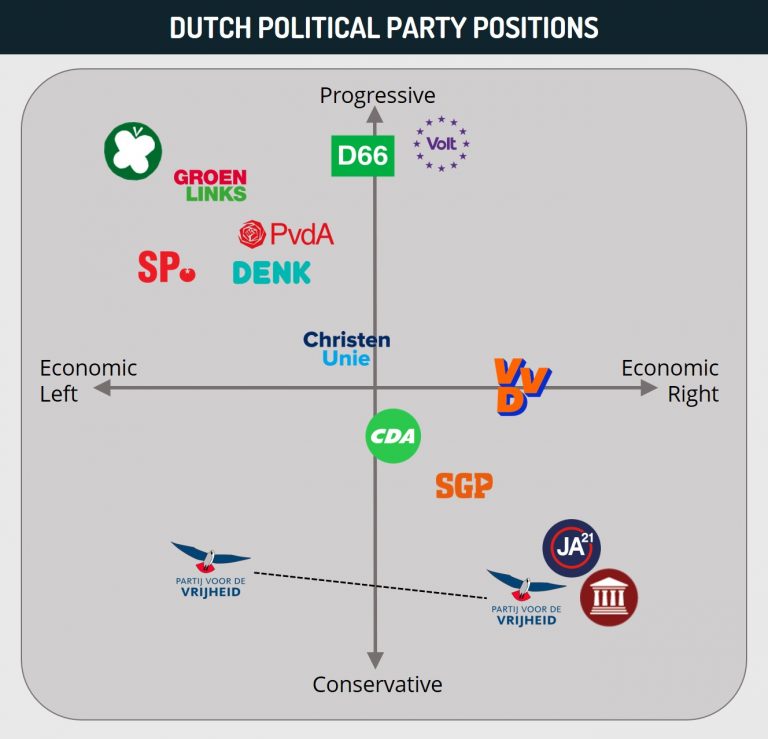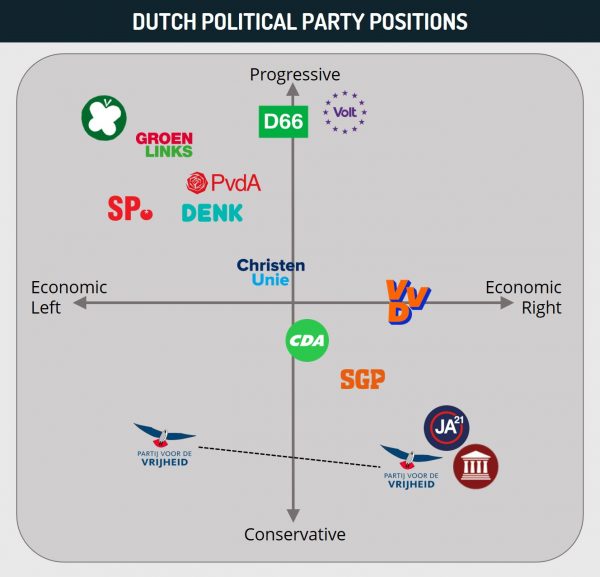 Both right- and left-wing parties likely to seek to attract voters from more centrist parties, as possible coalition will force governing partners to compromise
The right-wing-to-far-right parties are likely to continue to build their electoral prospects in opposition, attempting to attract potential disaffected VVD voters, especially if the government does swing more to the left. Such considerations may influence Rutte to withstand drifting too far to the left, potentially increasing instability in a coalition that could contain progressive or left-wing parties.
If the GL, PvdA, and SP fail to join the new coalition, they could potentially form a left-wing pact in the opposition as a counterweight to a center-right ruling block and a prominent right-wing opposition. As long as socio-cultural issues continue to dominate Dutch politics, left parties, including Volt, PvdD, DENK, and BIJ1, will likely continue to face competition from non-socialism-based parties near-term and remain a marginal force in an ever rightward-shifting political landscape. As with VVD, however, should D66 be deemed to be straying too far to the right or "giving in" to too many right-wing demands, they may similarly lose support to the left.
In the short term, protests against the ongoing regulations are likely, with both right- and left-wing groups participating and political parties taking part in order to solidify support. As such, a repeat of the earlier violence is possible. Additionally, should radical parties continue to support, either overtly or tacitly, various conspiracy theories linked to the vaccine, the risk of further attacks on related sites and personnel can be expected.
Recommendations
Travel to the Netherlands may continue as per government directives concerning the ongoing COVID-19 restrictions.
Those operating or residing in the Netherlands are advised to remain cognizant of the ongoing political developments and the latent risk of civil unrest in the coming months.
For more information on the security situation, please contact 

[email protected]

.