Executive Summary:
On April 3, dozens were killed as Maoist militants ambushed a contingent of security forces in Chhattisgarh's Bastar region in the most deadly attack since 2017, underscoring continued tactical capabilities despite leadership losses and ceding significant territory in recent years.
The latest ambush highlighted the authorities' flawed intelligence gathering and limited operational competencies in Maoist strongholds, largely due to their lack of knowledge of the terrain, compounded by support from local tribes for Maoist elements.
Going forward, insurgent attacks are expected to recur in central India, as Maoists make a concentrated effort to portray strength and bolster recruitment amid a tightening security grid in neighboring states that have forced cadres to retreat to Chhattisgarh.
Travel to Delhi and other major Indian cities can continue, while travelers are advised to maintain general vigilance for security risks associated with potential insurgent threats targeting government buildings, security installations, and large crowded public places.
---

---
Current Situation:
On April 3, 22 soldiers were killed and 31 injured following an encounter with Maoist insurgents along the border between Sukma and Bijapur districts in Chhattisgarh's southern Bastar region. Nearly 400 Maoists ambushed a joint contingent of forces conducting an anti-Maoist operation, leading to a three-hour encounter. Maoists in an official statement claimed that four of their members were killed in the clashes, contradicting the government's earlier announcement that 12 Maoists were killed.
The attack came amid days of counterinsurgency operations in the region, with reports indicating that several teams of around 2,000 security personnel were deployed. Operations were ongoing following intelligence reports stating the presence of Maoist squads along with Madvi Hidma, the commander of the Maoists' People's Liberation Guerrilla Army (PLGA) Battalion No. 1, who has been linked to major attacks since 2010. The latest intelligence suggested his location in the forests in Bijapur, along with a large number of Maoist cadres. The April 3 attack was reportedly orchestrated by Hidma.
This incident closely followed the first major Maoist attack in nearly a year, during which five security personnel were killed and 14 injured in Chhattisgarh's Narayanpur district, on March 23.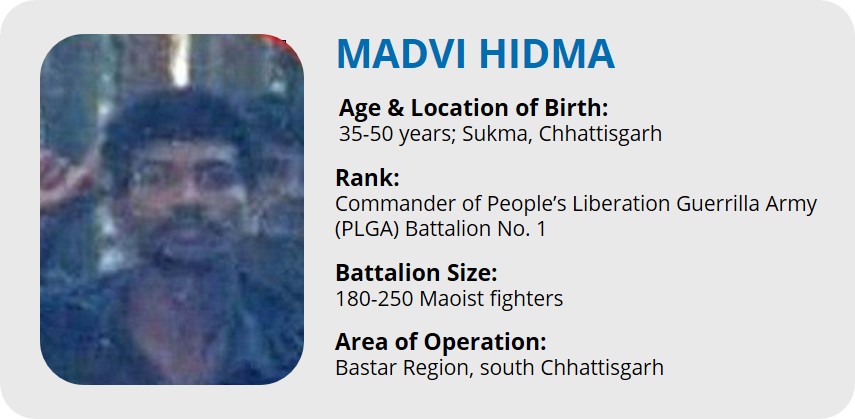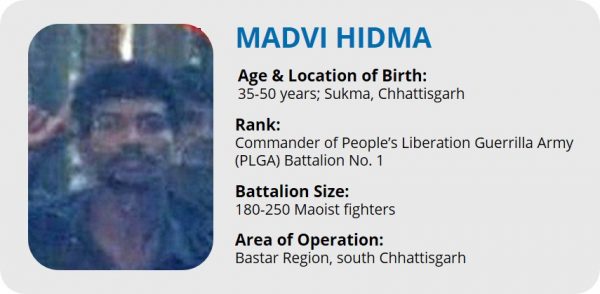 ---
Background:
The left-wing extremist (LWE) movement is rooted in the violent rural community uprisings against landlords in West Bengal's Naxalbari area in 1967. It has taken several forms over the years but gained momentum after two Maoist groups merged to establish the Communist Party of India (Maoists) [CPI (Maoists)] in 2004.
Under the banner of the CPI (Maoists), insurgents conducted violent attacks against security forces and state installations, which included low-intensity guerrilla ambushes and large-scale attacks. The violence has claimed the lives of thousands of security personnel and civilians over the years, with the insurgency being termed as the "single biggest internal-security challenge" by former Prime Minister Manmohan Singh. During its peak years, Maoists were active in more than 200 districts across more than 20 states in India.
The rebel movement has waned since 2010 due to a concentrated effort by security forces to crack down on LWE groups while simultaneously conducting on-ground development projects. As of 2020, there were 90 Maoist-affected districts in 11 states, with the 30 worst-affected districts largely concentrated in Chhattisgarh and Jharkhand, followed by Andra Pradesh, Maharashtra, Odisha, and Telangana. While incidents of violence have significantly reduced since 2004-2010, Maoists continue to carry out deadly attacks against the state apparatus, with several major ambushes recorded over the last decade.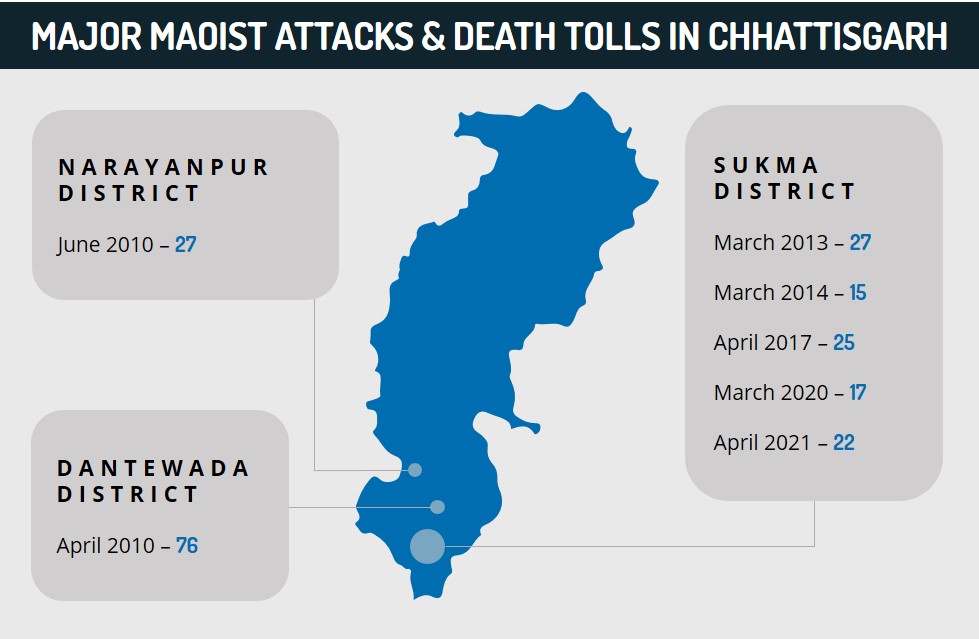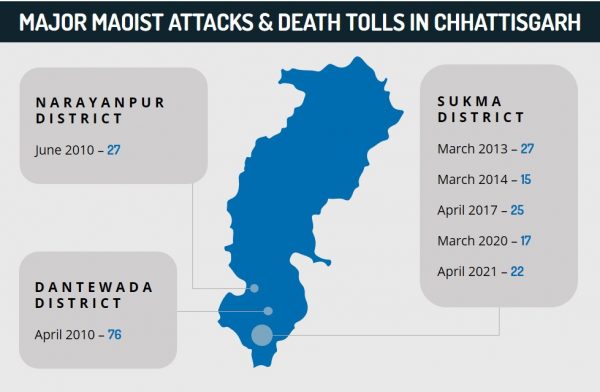 ---
Assessments & Forecast:
Maoists look to demonstrate continued capabilities despite operational setbacks 
The Maoist attack on April 3 is highly notable given the significant number of casualties, making it the most deadly LWE encounter since the 2017 attack in Sukma. The latest plot appeared to be a calculated and well-planned ambush, with reports indicating that the insurgents carried out a "U-shaped" trap, wherein rebels lured the team of security personnel into flat land before firing at them from the surrounding high ground. These developments, coupled with the attack just weeks prior on March 23, suggest an effort by Maoists to project their continued operational capabilities.
This was likely informed by the fact that LWE activities, which have been on a declining trend in recent years, were further hit by the strict nationwide lockdown imposed at the onset of the COVID-19 pandemic. The movement restrictions that included strict controls at inter-district and inter-state borders served to constrict the Maoists' supply chains for food, medicines, and other essential commodities, thereby, significantly hampering their capabilities. The insurgents reportedly also faced difficulties in procuring weapons from their arms factories in Chhattisgarh and Jharkhand, further impeding their capacity to conduct tactical offensives.
The latest attacks are also notable as they were timed to coincide with the annual Tactical Counter Offensive Campaign (TCOC) from March to June, the core of the Maoists' strategy, during which insurgents carry out recruitment drives and conduct major plots to showcase their tactical proficiency. This is relevant since there was reportedly a 40 percent decline in violence during the 2020 TCOC period as compared to the year prior. The alleged use of light machine guns (LMGs), IEDs, and crude rockets during the April 3 ambush also serves to display the Maoists' capacities.
The latest attack highlights major lapses in counterinsurgency intelligence and operations in Maoist strongholds
While the Chhattisgarh state government ruled out intelligence and operational failure as the reason behind the April 3 encounter, the details of the attack that dealt heavy casualties to security forces suggest otherwise. The information regarding the presence of Maoist commander Hidma and other cadres in the area was not incorrect but the ambush indicates that the intelligence was flawed in terms of the intention and scale of the Maoist presence in the region, resulting in security forces walking into a trap.
There are two main reasons behind the recent tactical failure. Firstly, security forces in Chhattisgarh are largely dependent on human intelligence to gather information about Maoists. This serves as a major problem in Bastar, a Maoist bastion, where the insurgents have strong support from the locals who keep them informed of security movements. This was also evidenced by the fact that Maoists allegedly vacated locals from the villages near the encounter zone days before the ambush to prevent civilian casualties. Such acts are liable to heighten goodwill towards the rebels among the villagers in Bastar, ensuring future support and possibly boosting recruitment.
Secondly, the Maoist rebels have an undisputed advantage vis-a-vis knowledge of the terrain since the cadres are largely composed of individuals from the area, including Hidma, who was reportedly born in Sukma. In this context, the deployment of 2,000 security personnel in the weeks before the attack was a major oversight in the counterinsurgency operation. The large number of troops moving in the Maoist stronghold lands was a highly overt operation , underscoring the difficulty in formulating an effective strategy in countering the insurgents in Chhattisgarh's Bastar region.
FORECAST: Unless security forces recalibrate their strategy and intelligence gathering techniques in the stronghold of Bastar, the Maoist insurgency is expected to remain a major threat in central India. Instead of conducting large operations, smaller special operations units are more likely to succeed in infiltrating the stronghold and carrying out targeted operations against key Maoist leaders. This is especially given reports that top leaders like Hidma are reportedly protected by a multi-layered security cover, making it particularly hard to breach with direct offensives. Authorities are also seeing problems due to their inability to adequately adopt a more population-focused approach, which includes development strategies in the tribal regions, to sway local sentiment away from the Maoists.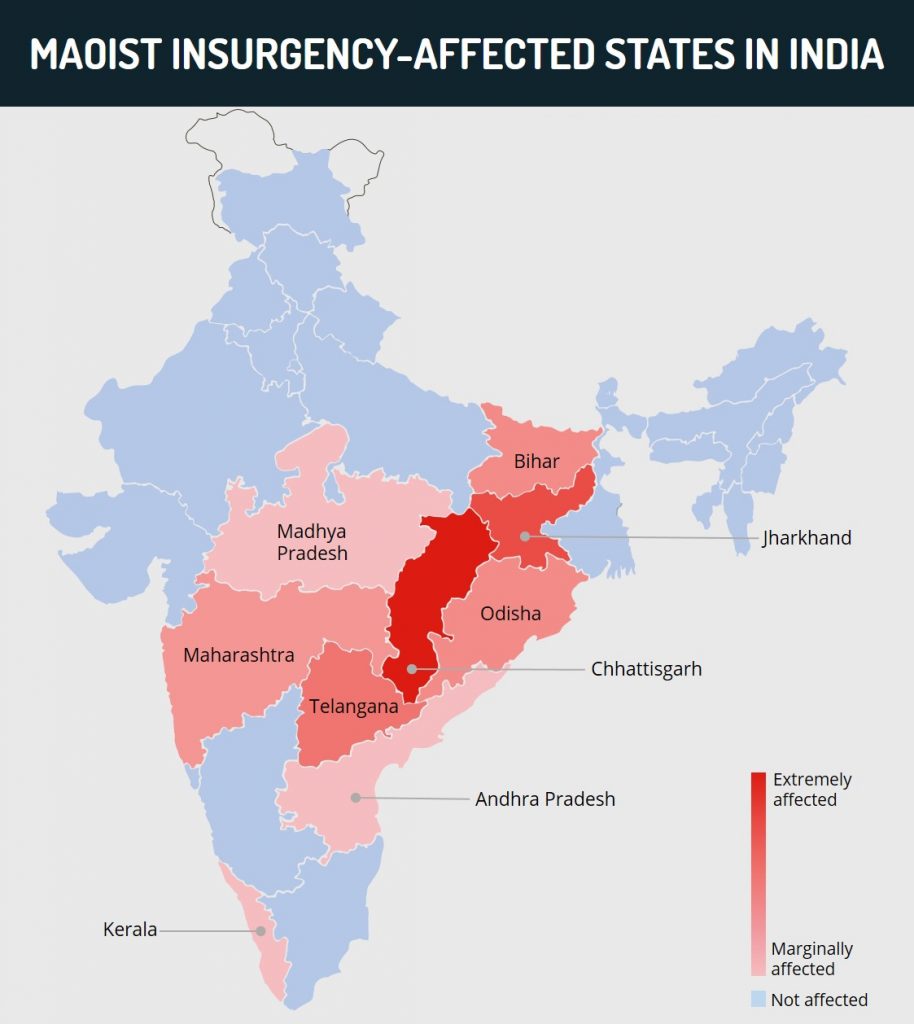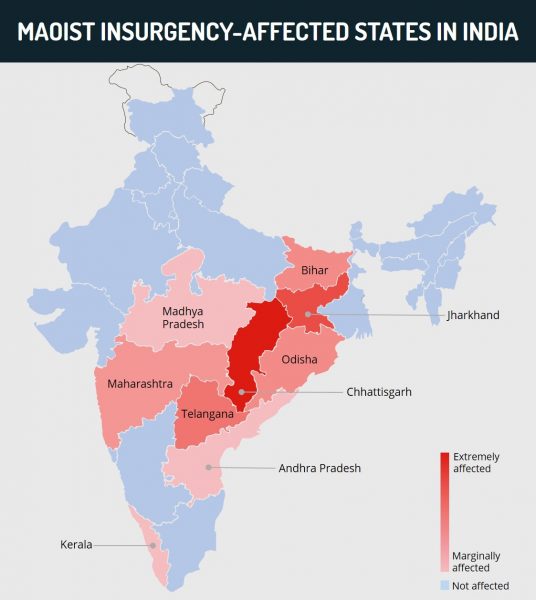 Insurgency attacks to sustain for foreseeable future despite losing ground in recent years 
The latest developments suggest that the Maoist insurgency is not in its last stages despite the steady decline in LWE-related incidents of violence since 2010. While the group has ceded significant territory and lost several leaders in recent years, the outfit remains a major security threat in central India. That said, the recent incident does not signify that the outfit is regaining dominance or expanding into lost territories; rather, it points to a concerted effort to portray strength and bolster recruitment in the Maoist bastion amid a tightening security grid in neighboring states that has forced cadres to retreat to strongholds in Chhattisgarh.
FORECAST: In this light, LWE attacks are expected to continue for the foreseeable future, especially in Maoists' core areas where they have the capacity to conduct high-visibility attacks. This is particularly given the increasingly assertive tactics adopted under Basavaraj, the former head of the outfit's Central Military Commission (CMC), who was appointed as chief of the CPI (Maoists) in 2018. His leadership reinvigorated violent plots by the group through large-scale IED-based attacks and multi-pronged ambushes on security forces as well as high-value targets, such as prominent politicians. Unconfirmed reports also indicate that Hidma is set to head the CMC, which oversees all guerrilla activities in India, increasing the risk of attacks in restive regions.
FORECAST: While insurgents are expected to predominantly attack security operatives and the state apparatus, civilians residing or traveling in Maoist-affected regions can be potential targets, particularly if they are suspected of being police informants or of holding links to the government. Maoists may also target infrastructure projects as well as local industries and businesses in a bid to extort money. In the near term, security forces are liable to increase the frequency and intensity of anti-Maoist operations in Chhattisgarh, as well as in other Maoist-affected regions in the "Red Corridor", which mainly encompasses parts of Andhra Pradesh Bihar, Jharkhand, Maharashtra, Odisha, and Telangana. Such measures may include intensified combing operations and the deployment of additional security personnel, increasing the risk of clashes.
---
Recommendations:
Those operating or residing in Chhattisgarh over the coming months are advised to maintain heightened vigilance, particularly in rural districts, due to the risk of Maoist attacks and the threat of collateral damage from increased security operations.
Travel to Delhi and other major Indian cities can continue, while travelers are advised to maintain general vigilance for security risks associated with potential insurgent threats targeting government buildings, security installations, and large crowded public places.
We advise against all nonessential travel to rural and tribal areas of Bihar, Chhattisgarh, Jharkhand, West Bengal, and Odisha states given their restricted travel status with the government. Travel to urban areas, such as Bhubaneshwar, can continue while maintaining heightened vigilance.
It is advised to consult with India's Bureau of Immigration for a full list of restricted areas within India which travelers must obtain special permission to visit.
Given the continued militant threat in India, maintain heightened vigilance for suspicious individuals and unattended baggage, particularly in public places including major hotels, government installations, transport hubs, markets, restaurants, entertainment venues, and places of worship.