Indonesia Analysis: Elevated threat of militant plots ahead of May 22 election announcement; security situation to be volatile over coming weeks
Executive Summary:
In May, authorities arrested at least 30 militants belonging to the Islamic State (IS)-affiliated Jamaah Ansharut Daulah (JAD), mostly in Java, underscoring a surge in JAD activity. Nearly 70 JAD members have been arrested since January.

The arrestees were reportedly seeking to target mass protests ahead of and on May 22, when the General Elections Commission (KPU) is slated to release the official results of the April 17 presidential and legislative elections. 

The elevated threat from the JAD operatives emanates from the symbolism of potential attacks during the election period. The arrests show seemingly increased cooperation between cells and the threat of returning militants from the Middle East.

Election-related events are likely to be witnessed over the coming days, which may motivate militant elements to conduct attacks at demonstrations, especially near government buildings.

Travel to Jakarta may continue at this time while maintaining heightened vigilance given the latent threat of militancy.
Current Situation:
In March, authorities uncovered an Islamic State (IS)-affiliated Jamaah Ansharut Daulah (JAD)  cell consisting of at least 10 members in Tanjungbalai, Central Tapanuli, and Sibolga areas of North Sumatra, as well as Bandar Lampung in South Sumatra and Klaten in Central Java. Authorities recovered 300 kg of explosives from Sibolga during the raids in which the wife of a militant also self-detonated to avoid arrest.

On May 2, authorities arrested two members of a JAD cell in Bitung, Sulawesi led by an individual named Solihin. They reportedly sought to go to Poso, Central Sulawesi, to link up with the Ali Kalora-led IS-linked East Indonesia Mujahideen (MIT). Following this, authorities arrested at least eight militants linked to the cell in Bekasi, West Java and Tegal, Central Java, including Solihin.

Solihin is also believed to be the leader of an IS-linked cell in Lampung and is suspected of being involved in the January 2016 Jakarta attacks and the May 2018 Depok prison riot. He reportedly traveled to Papua to establish a training camp, before returning in early 2019 with the aim of forming cells in Bekasi and Poso. At present, it remains unconfirmed if his plans materialized. Solihin is a bomb-making expert and authorities recovered the highly volatile triacetone triperoxide (TATP) substance during the raids.

Later, authorities arrested an individual referred to E.Y. in East Jakarta on May 8. E.Y. is suspected to be the leader of a JAD Bekasi cell and helped to finance Solihin's activities and procure explosives. He is also a bombmaker. Authorities recovered at least two IEDs with TATP that had been modified to circumvent signal jammers used by authorities to prevent remote detonation of IEDs. Authorities alleged that E.Y. extended the range of the device, meaning that it could be detonated from a radius of one km instead of the typical 200 meter-range of WiFi routers.

E.Y. and Solihin's JAD cells reportedly planned to attack police and participants of the "people power" protests ongoing in Jakarta. The protests are being held by supporters of opposition presidential candidate Prabowo Subianto against alleged fraud in the April 17 elections. The KPU is expected to announce the official results on May 22. 32,000 police personnel have been deployed in Jakarta for the announcement, and a four-tier security perimeter remains in place at the KPU building.

On May 14, authorities arrested nine JAD militants, seven of whom who reportedly fought or were with IS in Syria. The arrests occurred at locations across Central Java. On May 17, an individual was arrested in Bogor District for plotting to detonate explosives near the KPU building.

In Malaysia, authorities uncovered an IS-linked cell, including two Indonesians and two Malaysians, that were planning attacks in Klang Valley, per May 16 reports. The Malaysians trained with the JAD in Yogyakarta, Indonesia at an unspecified date to assemble TATP-based explosives, and sought to target churches there.
Assessments & Forecast:
Surge in JAD-linked activity over previous weeks points to elevated threat of militancy over election tensions
The developments since March point to the elevated threat of militancy at the moment and the potential for attacks in Jakarta over the coming days and weeks. The fact that the cells sought to target the people power protests is notable, given that JAD's traditional targets have been security forces and minority communities. This is despite the fact that sections of Prabowo's supporters harbor Islamist tendencies, indicating the militant group's opposition to the electoral process as a whole. Such political events were likely selected in order to maximize casualties and capitalize on the prevailing levels of polarization, with the potential broader goal of fuelling unrest between political camps.

The plots may also be motivated by the ongoing Ramadan period, which traditionally sees an uptick of attacks by Islamist militant groups in various countries, as well as the one year anniversary of the Surabaya attacks. Another possible motivation for the uptick in JAD activity since the start of the year could be the decision in January by President Joko "Jokowi" to backtrack on his reported consideration of releasing Abu Bakar Bashir, an IS-affiliated cleric considered to be the spiritual leader of the now-defunct Jemaah Islamiyah (JI) militant group. This is suggested by the increased circulation of pro-IS propaganda against President Jokowi since his reversal of the decision.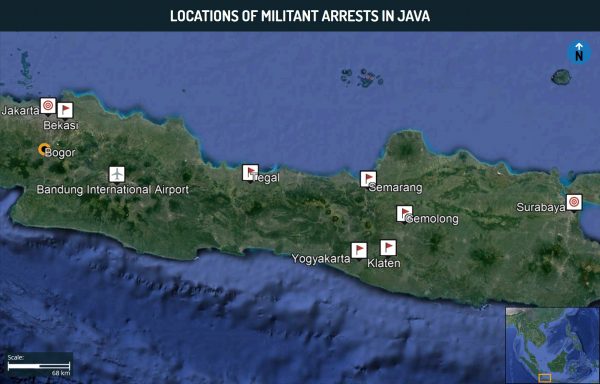 Arrests highlight high degree of coordination between cells, sharing of expertise by returning fighters
The May 14 arrests are indicative of the heightened threat from IS fighters returning to Southeast Asia following territorial losses in the Middle East. The risk posed by these individuals is elevated compared to self-radicalized individuals, due to their combat experience and in-depth knowledge of explosives, as opposed to inexperienced individuals relying on online manuals. The arrest of the Malaysians who reportedly traveled to Yogyakarta for training with JAD reinforces the transnational links between militants in Southeast Asia and the fluidity of their movements.

The geographical dispersion of JAD networks, as well as the communication and operational overlap between different cells raises the threat level. Previously, JAD operated in a loosely-hierarchical structure with cells isolated from each other and relatively localized within a city or region. In this context, the fact that E.Y. and Solihin's cells reportedly planned to conduct attacks together is highly notable and seemingly unprecedented in the recent past. Solihin's efforts in leading multiple cells and his aspirations to set up a Poso cell and operate alongside Ali Kalora's MIT suggest that he sought to galvanize radicalized individuals from different outfits to work together. This potentially underscores a renewed coordination between domestic groups like the JAD and MIT.

This coordination may be informed by nationwide arrests of suspected militants following the Surabaya attacks and the banning of the JAD in July 2018. Specifically, the movement of operatives between different cells may have been an effort to evade detection, as spreading a cell's operatives across Indonesia would make it more challenging for authorities to effectively dismantle whole sub-units. While connections between the Sibolga cell and Solihin's Lampung network are unclear, there is likely to be some degree of overlap between the cells, given that both networks had operatives across Sumatra and in Java.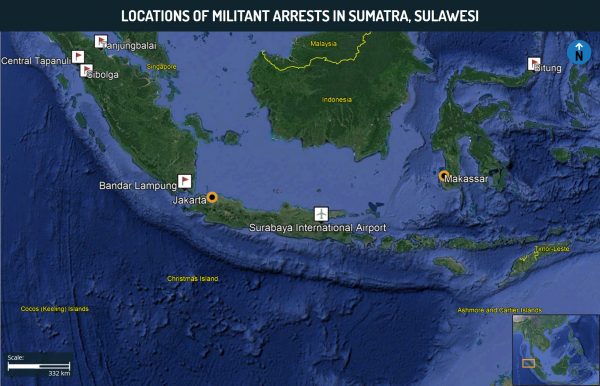 Frequency of anti-militancy raids to increase over coming weeks
While JAD operations were earlier coordinated by senior Indonesian militants in Syria such as the now-deceased Bahrumsyah, the group's seeming focus on building local leadership structures and improving interoperability of cells is evident in the arrests of high-profile individuals like E.Y. and Solihin. This is given their connections to multiple networks and contacts with radical sympathizers in disparate areas such as Central Sulawesi and North Sumatra.

The fact that E.Y. constructed IEDs capable of circumventing police measures to prevent the remote detonation of explosives signifies attempts to achieve a higher degree of sophistication in bomb-making efforts as compared to previous periods of JAD-related activity. Further, the use of highly volatile TATP-based explosives points to this, given the difficulties in assembling such devices by individuals lacking sufficient experience.

FORECAST: Over the coming days, authorities will likely conduct raids across the country based on information received from arrestees part from the aforementioned cells. There remains a heightened risk of militant plots in Jakarta and other cities like Surabaya, especially during the KPU announcement on May 22. Security is liable to be further bolstered around government installations, especially the KPU and Election Supervisory Board (Bawaslu) buildings in Jakarta. Other potential focal points of unrest include Monas, Merdeka Palace, Istiqlal Mosque, mosques in Petamburan, and the headquarters of the hardline Islamic Defenders Front (FPI). Although authorities have called on protesters to refrain from holding demonstrations in Jakarta on May 22 over the threat of militant attacks, election-related tensions will likely continue to manifest in significant mobilizations. There is a potential for roadblocks and security checks in the vicinity of demonstrations, while police may seek to forcefully disperse crowds should protesters seek to breach the government buildings or incite tensions in the vicinity.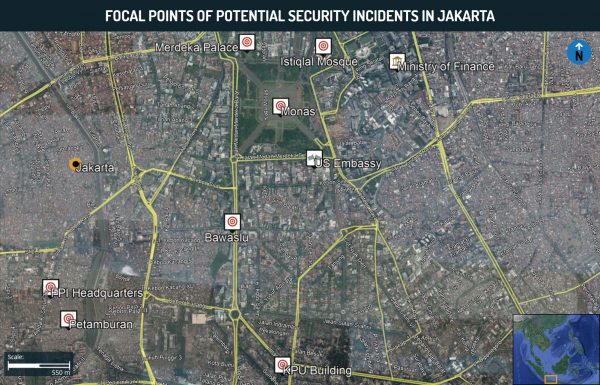 Recommendations:
Those operating or residing in Jakarta are advised to maintain heightened vigilance in the vicinity of government buildings, transportation hubs, iconic public areas, military bases, restaurants, high-value soft targets, shopping centers, and religious centers including mosques and churches, as they remain potential targets for militant attacks.  

Remain cognizant of your surroundings, including any suspicious behavior of individuals, which may include a person wearing winter clothing during warm weather and/or seemingly wandering around, as well as items that look out of place, such as bags or containers.

Immediately alert authorities of any suspicious behavior or items.

Ensure that places of stay are properly secured, alter travel routes, and avoid disclosing sensitive itinerary information to unknown individuals.

Foreigners, particularly Westerners, should maintain a low profile, and exercise heightened vigilance in the vicinity of locales frequented by foreign, particularly Western nationals, including US and Western diplomatic missions and interests, due to the increased potential for militant attacks.

Avoid all demonstrations and large public gatherings due to the potential for unrest and security crackdown at these events.

We advise against nonessential travel to outlying areas in Indonesia, particularly Aceh, Central Sulawesi, Papua and West Papua provinces, due to the risk of civil unrest as well as localized politically or religiously motivated violence.