Bangladesh Analysis: Militant efforts subdued due to leadership crisis within Neo-JMB; tense political climate ahead of 2018 elections conducive to Islamist radicalization
Executive Summary:
• Operations of the Neo Jamaatul Mujahideen Bangladesh (Neo-JMB) have seen a notable decline in the second half of 2017.
• This is likely due to the loss of leadership in concerted security force operations after a spike in attempted attacks in March 2017, and recruitment of lesser experienced cadre.
• There are concerns that Bangladesh-based militants may increasingly migrate towards India to set up operations while messaging from al Qaeda in the Indian Subcontinent could inspire a more anti-Hindu and anti-India approach on both sides of the border.
• There is an increased risk of radicalization ahead of the general elections later in 2018, especially should the Awami League government scale up its arrests of activists from Islamist parties such as Jamaat-e-Islami (JeI). This may, in turn, spur recruitment to local militant groups over coming months.
• Travel to Dhaka and Chittagong may continue at this time while adhering to stringent security protocols given the threat of militancy, crime, and reports of violence from political rivalries.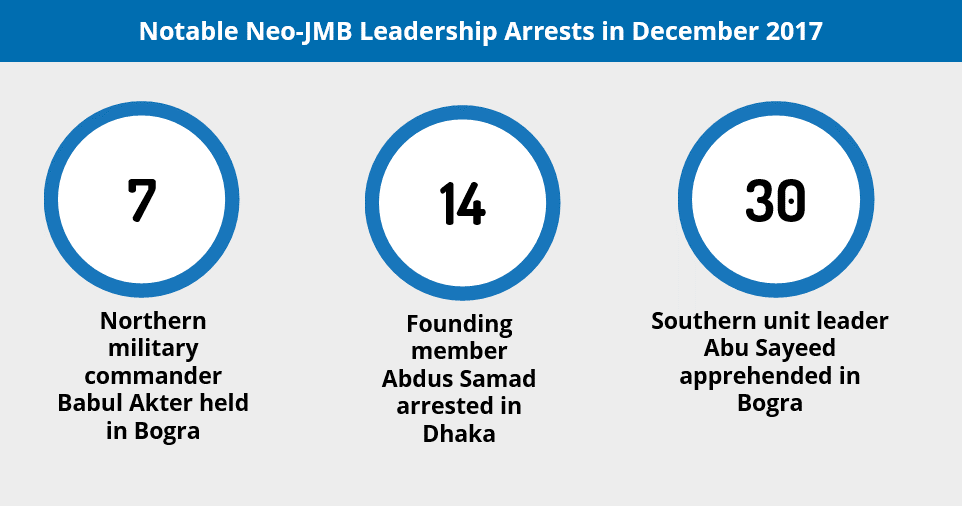 Current Situation:
• Over the month of December 2017, security forces made multiple arrests of senior Jamaatul Mujahideen Bangladesh (JMB) and Neo-JMB members in Dhaka as well as the northern Bogra District in the Rajshahi Division. Most notable among those arrested were Babul Akhter, the Neo-JMB's northern military commander on December 7, founding Neo-JMB member Abdus Samad on December 14, and southern chief Abu Sayeed on December 30.
• On January 5, security was increased at the US Consulate and American Cultural Center in Kolkata, West Bengal State over potential militant threats from an unspecified "neighboring country". Earlier, in November 2017, at least three militants from the Bangladesh-based Ansarullah Bangla Team (ABT) were arrested in West Bengal State.
• On November 28, a video in Bengali titled "Saffron Terror" was circulated online by al-Qaeda in the Indian Subcontinent (AQIS). The video called for Muslims in the subcontinent to avenge the alleged suppression of their community by the perceived right-wing Bharatiya Janata Party (BJP) government.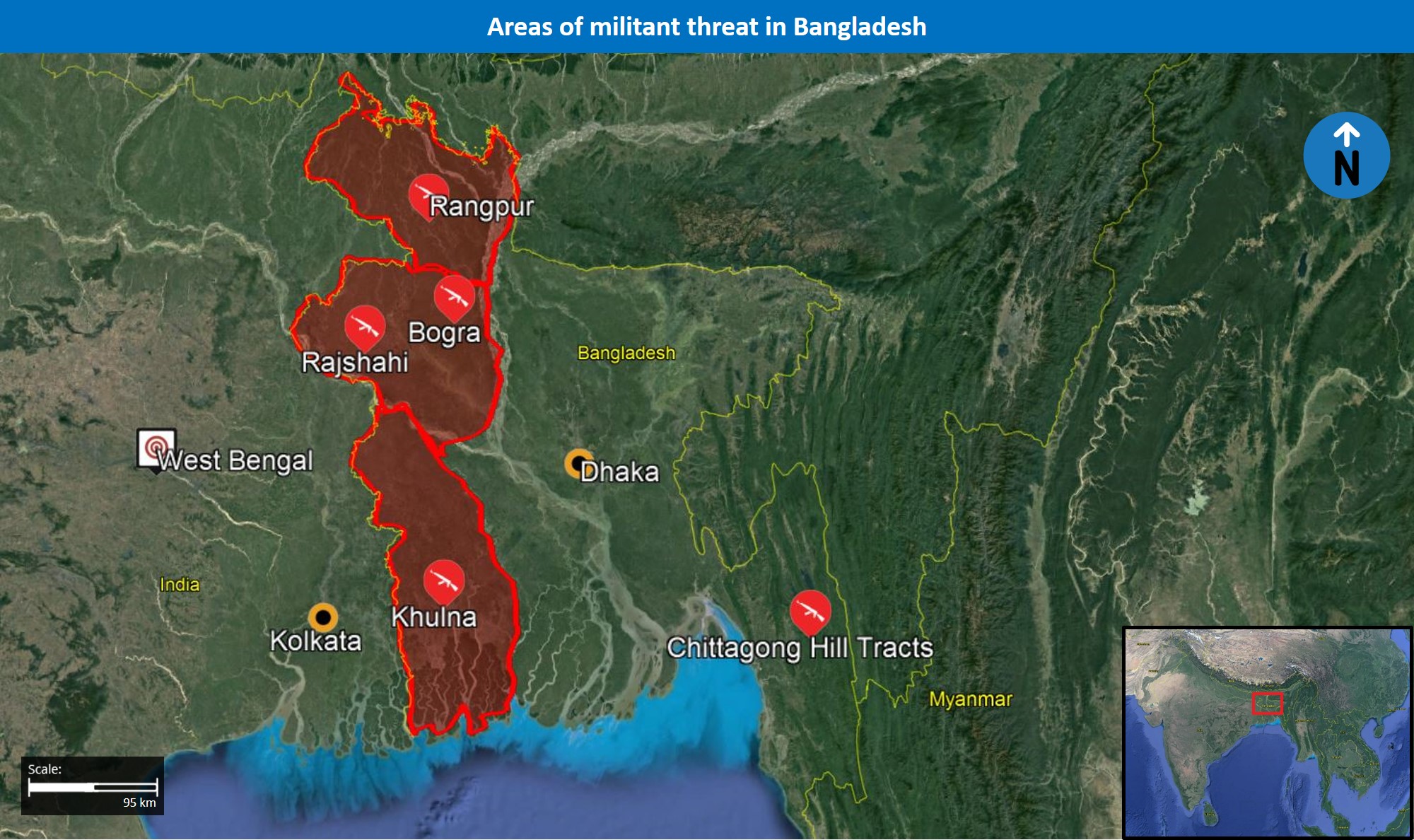 Assessments & Forecast:
Declining capabilities reflect leadership crisis, lack of trained operatives within Neo-JMB
There has been a recent lull in Neo-JMB militant operations across Bangladesh over the second half of 2017, after a brief spike in attempted attacks in the month of March. This appears largely an outcome of a significant degradation of the group's leadership through security operations in recent months. As previously assessed, the Neo-JMB continues to migrate to the country's border divisions such as Khulna, Rangpur, and Rajshahi, which were erstwhile JMB strongholds. The arrests of top leaders in Bogra, including both the northern and southern chiefs, further substantiate this assessment. Many of these leaders, such as founding member Abdus Samad, were instrumental in leveraging their local networks in these border areas to facilitate weapons and personnel smuggling operations in the past. Also notable and reflective of declining capabilities is the lack of any substantial armed resistance during these raids. This is unlike previous security raids in early 2017 when Neo-JMB senior leaders staged IED and suicide attacks against special forces entering their safehouses.
A secondary cause for the declining militant operations is likely the seeming lack of adequately-trained operatives. Based on material recoveries from recent arrests, the focus of Neo-JMB cells remains suicide bombing attacks. However, as witnessed in recent attempts such as the Panthapath plot from August 15, these operatives have lacked the skill to successfully execute attacks, and are unable to minimize their exposure to security force raids.
Concerns remain over regional blowback from anti-militancy operations, targeted jihadist propaganda
The recent security alert at US diplomatic and cultural facilities in Kolkata is reflective of concerns that Bangladesh-based militant groups may seek to infiltrate Indian territory. The trend of cross-border movement between the Indian state of West Bengal and Bangladesh is not new; militants from JMB have traditionally used border access areas such as Chapainawabganj District in the Rajshahi Division to move weapons and personnel. Thus far, primary concerns in India have centered on these militants' use of West Bengal as a staging area to regroup and return to Bangladesh. This was illustrated in the capture of Neo-JMB senior leader Abu Sayeed, who was implicated in setting up bomb-making units in the Burdwan District of West Bengal as early as 2014. However, there is a possibility that Bangladeshi militants may attempt to liaison with radicalized individuals in India, in vulnerable states like West Bengal and Uttar Pradesh to set up local cells and plot attacks.
These fears are additionally informed by the increasing radical messaging from AQIS for India and Bangladesh, which has made references to "saffron terror" or alleged acts of violence perpetrated by right-wing Hindu activists on Muslims in India, such as the reported attacks on minority communities suspected to be trading beef or cow-related products. This is indicative of AQIS's attempts to create a wedge between Hindu and Muslim communities on both sides of the India-Bangladesh border. These tensions are likely to see a steady increase in West Bengal as the BJP party attempts to broaden its presence in the state. This increases the risk of reactionary attacks on Hindu or perceived Indian targets on the other side of the border, in Bangladesh. This may not necessarily involve an organized attempt led by a Neo-JMB cell, but could equally be perpetrated by self-radicalized Islamists through low-sophistication methods. This could resemble the vandalism and arson attacks in Rajshahi Division in November 2017 against temples and houses belonging to the Hindu community. Border divisions like Khulna, Rajshahi, and Chittagong have a larger percentage of Hindus, but are also areas where militant groups have been regrouping, increasing the risk of them influencing local inter-religious tensions.
Finally, in terms of the regional and transnational security issue in Bangladesh, the influx of Rohingya refugees are likely to remain a concern for state authorities. These fears have their basis in the reported links that Rohingya refugees have allegedly had to contraband smuggling networks, as well as Rohingya militant groups' use of the Chittagong Hill Tracts region for training camps. There is no indication at the present time that the Rohingya refugee population is being weaponized. FORECAST: However, should refugee populations remain unsettled and conditions in camps see limited improvement, militant groups may seek to exploit a potential anti-government and recruit from these communities in the future.
Potential for Islamist radicalization to increase ahead of general elections in late 2018, AQIS likely to play greater role
Trends in militant recruitment in the coming months are also likely to be influenced by growing political tensions between the Awami League (AL) government and its primary opponent, the Bangladesh Nationalist Party (BNP). The BNP and its ally, the Jamaat-e-Islami (JeI) in particular have been traditionally associated with more radical Islamist demographic. As part of its anti-extremism agenda, the AL government has arrested large numbers of leaders and activists from these parties; for instance, according to statistics in 2017, over half of all militancy-related arrests came from the JeI. This has likely propagated the perception among the BNP and JeI that the government's anti-militancy campaign is part of targeted attempts to limit the challenge they may pose in the 2018 elections.
Consequently, the perception of marginalization from the political mainstream may push members of these parties towards militant groups. This has already been reflected in the reportedly growing numbers of activists from the Islamic Chhatra Shibir (ICS), the JeI's student wing, joining groups like the Neo-JMB. The influx of less experienced recruits may also gradually yield an adjustment of the Neo-JMB's tactics, techniques, and procedures to match the skills of their new cadre. A focus on petrol bombs and cold weapon attacks, which student groups are known to engage in, may take precedence over more sophisticated suicide bombing plots in the future as a result.
Meanwhile, there has been a notable decline in the references to Bangladesh in recent Islamic State (IS) propaganda. In part, this may be more of a reflection of the overall decline in IS's transnational media campaigns, as a result of the personnel losses its central leadership and media wing has faced. However, it could also indicate the group's reduced levels of interest in developing assets in the country, as the dearth of local leadership makes it an increasingly unviable area of interest for IS.
However, the increase in AQIS messaging in recent months, as well as allusions to a revival of its presence in the country, could serve to fill the vacuum of transnational jihadist influence in Bangladesh in the coming year. FORECAST: Should AQIS seek to collaborate with local groups, as IS was believed to do with the Neo-JMB, groups such as the ABT, who have been linked to AQIS in the past, are likely to serve as on-ground conduits. Additionally, a movement of Neo-JMB and JMB militants towards the AQIS banner remains a distinct possibility, which could culminate in the setting up a new group with a different name in order to evade state proscription.
Recommendations:
Travel to Dhaka and Chittagong may continue at this time while adhering to stringent security protocols given the threat of militancy, crime, and reports of violence from political rivalries.
Given the continued threat of militant attacks against foreign nationals or interests in Bangladesh, foreign nationals are advised to maintain a low profile, avoid travel if possible at night, review security procedures, and maintain heightened vigilance throughout the country.
We advise against nonessential travel to Khulna, Rajshahi, and Rangpur Divisions, as well as the Chittagong Hill Tracts region due to the threat of militancy and inter-religious violence.